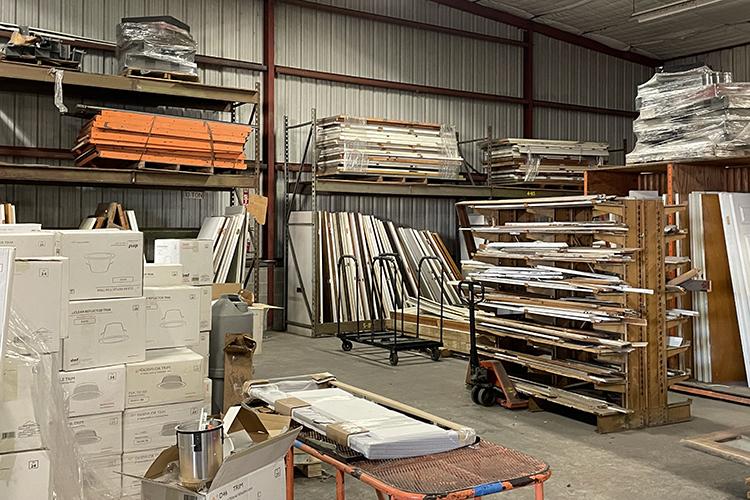 Construction and demolition waste accounts for about 40% of all landfill waste in the United Sates.  Concrete and mixed rubble comprise the highest percentage, followed closely by wood.  Drywall waste is all too common, while carpet is thankfully becoming less of an issue. The carpet industry has made admirable advances in its recycling via take-back programs.
Demolition is a last resort in green building, as it implies throwing usable or recyclable materials into the landfill. Deconstruction is the goal when faced with an existing building that is no longer usable. Carefully unscrew, detach and remove items that may be recycled or reused. Light fixtures, windows, flooring, appliances and decorative architectural elements may find a new home through non-profit organizations (i.e. City of Houston Reuse Warehouse), antique dealers and by other consumers looking to construct or renovate their home or office building. Various types of metal, including wiring and cable, and especially steel can be sold to a scrap metal dealer. Assess what you have and look for ways to salvage, reuse or recycle as much as possible.
The Green Building Resource Center during its demolition phase collected, stored and hauled away salvaged construction material for recycling. Wood, concrete, metal and cardboard were hauled away and sorted at the waste facility while the existing carpet an ceiling tile were reclaimed by manufacturers. By properly 94% of its recycling construction and demolition waste the Green Building Resource Center earned (2) points in the LEED Rating System. 
Where can I take my salvaged construction materials?
City of Houston Reuse Warehouse
9003 N. Main
Houston, TX 77022
(281) 814-3324
www.houstontx.gov/solidwaste/reuse.html
Habitat for Humanity Restore
6161 South Loop East
Houston, TX 77087
(713) 643-1100
www.houstonhabitat.org/restore